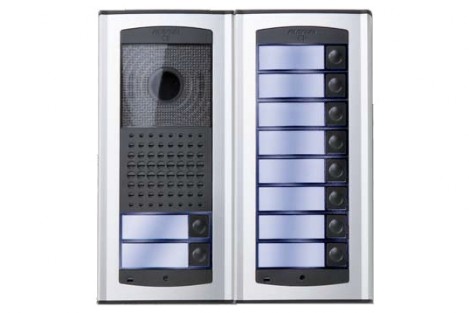 Modularity and flexibility enhanced by a body made up of anodized aluminium with brushed finish and structural system "weatherproof". The applied wise use of materials and the aesthetic purity led the concept obtaining concealable structural elements - hidden speaker in the mechanism of the camera, microphone inserted in the lower part, not visible.
AGORA

Thin, compact videointercom door station line. Surface mounted. Color camera with pin-hole lens is mounted on an ABS front plate together with anodised extrude aluminum elements. Name holders are back-lit in blue colour for easy identification even in poor lighting conditions. Agorà and Agorà Light can communicate with all Farfisa door stations, properly exploiting the most modern and simple system, from Duo System up to the analogue with reduced wiring.

> Brochure


SOLVO
Digital and vandal-proof video door station of Solvo series, ready to be mounted with RFID or vigik access control system. It works on digital Duo System. An only element complete with 16 buttons, 4 icons for system status visualisation and alphanumeric LCD. It allows to enter and send calls to the DUO digital bus.

MATRIX STYLE

Modern modular line of antivandalism door stations designed to withstand tampering, penetration of solids water jets.
IP45 and IK09 specifications. Both the front plates and buttons are made in stainless steel, name holders are backlit with green LED's for easy identification in poor lighting conditions. Die-cast aluminum frames and rain shelters for wall installation, along with back boxes. Matrix Style can be used for analogue and digital installations from Duo System, FN4000 and DF6000, with digital or conventional call modules.

> Brochure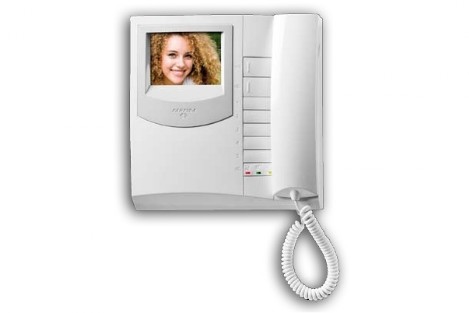 EXHITO

White monitor with 4" LCD screen. Many working possibilities, thanks t to the 7 function buttons devoted to auto switch-on, door lock opening and further 5 for intercommunicating calls and auxiliary services on plus version or basic solutions (even audio only) are available, for cases of reduced available space and great quality/price ratio. Exhito is able to work in all system requirements, starting from reduced wiring or conventional wiring up to the digital FN4000, DF6000 or DUO systems.

> Brochure


SETTE
Farfisa is proud to introduce its new range of indoor stations, Sette. The design is extremely rigorous: slim, carefully balanced lines define an ultra-flat monitor conveying a gracefully elegant and light impression, thanks to the attractive sharp profile with 45° edges, coupled with a distinct character enhanced by the step separating the display from the controls area.
ZHERO

Designed to be surface wall mounted. Available in total White and total Black, ZHero suits any architectural and furnishing style. Also ZHero takes full advantage of the OSD system to plan and organize operations details and the 3,5" display parameters. The soft touch buttons allow you to easily govern access to the menu and easily operate the functions that are most often used. Backlit icons and high quality ESP audio system give further comfort and elegance to the monitor. Available for DUO Systems only.

> Brochure